#ShopArrowBoutique | Online Women's Boutique
Arrow Boutique in Aberdeen, SD is the go-to place for fashionable boutique clothing made for ALL women. Whether you need a killer outfit for a girl's night out, or that perfect sweater that you want to live your best, most comfortable life in, Arrow Boutique has got you covered! In addition to stylish clothing, we pride ourselves on having affordable boutique pieces for a wide variety of women in different age groups. We wanted to create a boutique for women to come together and share their love of shopping, convey themselves, and build a supportive group. Quality and fit are always at the top of our list, and we are constantly updating our collection to include the cute trendy clothes that are as comfortable as they are quality. With an exciting selection of dresses, tops, jeans, accessories, shoes, and more, we can provide everything you need to build the cutest outfits that let your confidence and sense of style shine through. You'll find just what you're looking for when you wander into Arrow Boutique
EVERYTHING YOU NEED TO BUILD A STYLISH OUTFIT
Our women's clothing boutique offers a wide selection of trendy and stylish clothing pieces that ensure that you will always find what you need to build a fashionable affordable outfit that is also fashion-forward!
Are trendy tops are what your closet is missing? Our women's clothing boutique has that covered, as well. Our collection of tees, tunics, and floral tops perfectly transition from a day at the office to the missing piece to your date night outfit. From must-have basics to Dear John Denim, we have everything you need to stay on top on the fashion world in one easy-to-navigate website.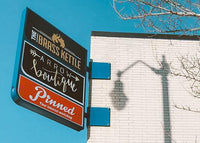 Local to Aberdeen?
322 S Main St Aberdeen, SD 57401 
Give us a call: 605-725-0540
Monday - Friday: 11am to 6pm
Saturday: 10am to 4pm
We Have Gift Cards For Every Occasion!
Looking for the perfect gift? Gift cards are available for those hard to shop for girlfriends!
Shop Now